Stunning rustic pebble cove with old, authentic fisherman's houses. Located in a semi-closed bay in Xàbia (Jávea), Alicante (Spain).
The cove Cala Portitxol (also called 'Cala Barraca') takes its name from the old fishermen's houses, called 'barracas'. These are white and blue, having a certain resemblance to Greece. Headlands, Cap Prim (a thin strip of land) and Cap Negre, give rise to a beautiful coastline. They form a shell-shaped bay with cliffs at both sides. This beach is sheltered and makes it look like a natural sea pool. The beach preserves its Mediterranean essence and is relaxed.
Cala Portitxol has a length of about 900 m. The water is generally calm and very transparent. It's ideal for swimming, diving, snorkelling and kayaking. The small Island of Portitxol is in front of this cove. It's of great botanical and archaeological interest and frequented by divers.
People who go to this cove are somewhat different from those who go to a conventional beach. They like to dive, nature and seek tranquillity. So even if there are people, it is still relaxed.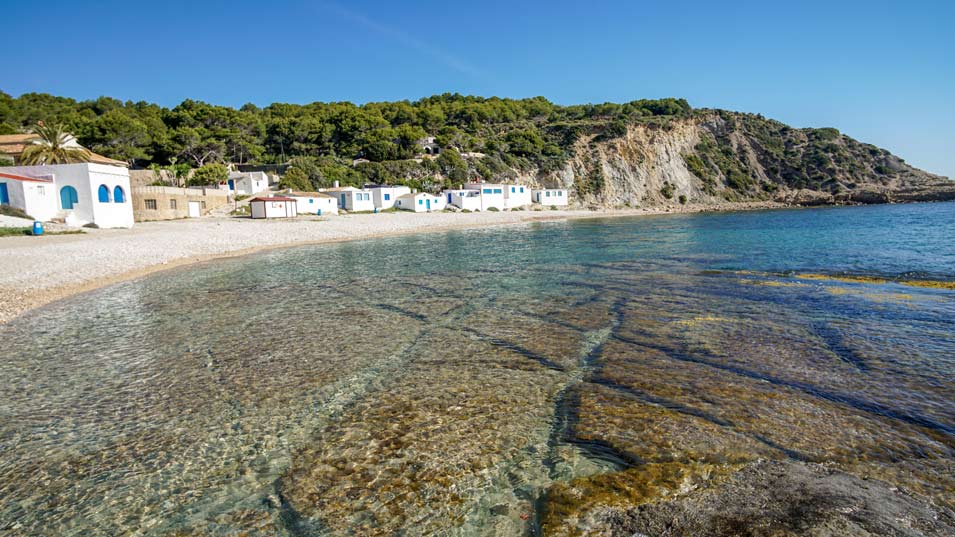 The old fisherman's houses and location between two headlands make this a unique cove.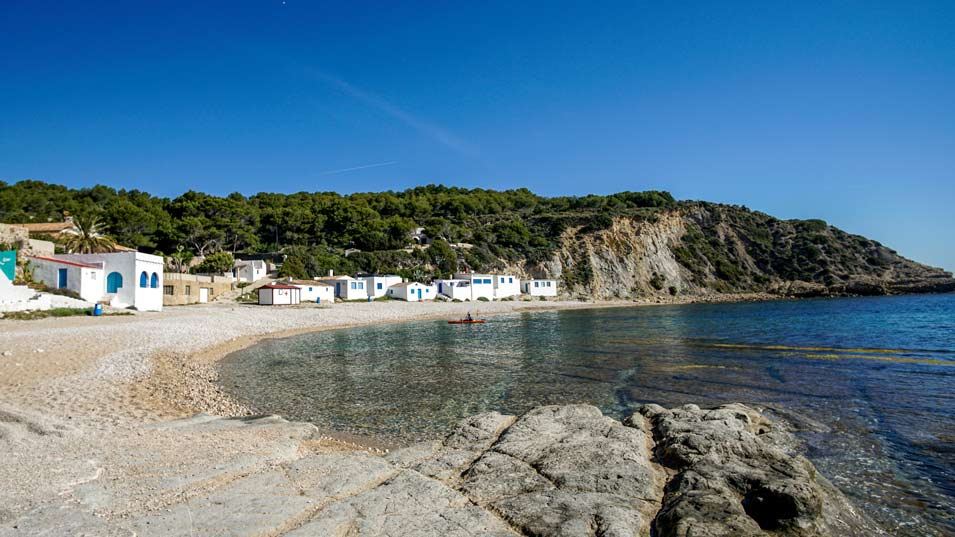 People come here often for kayaking, swimming, snorkelling and scuba diving.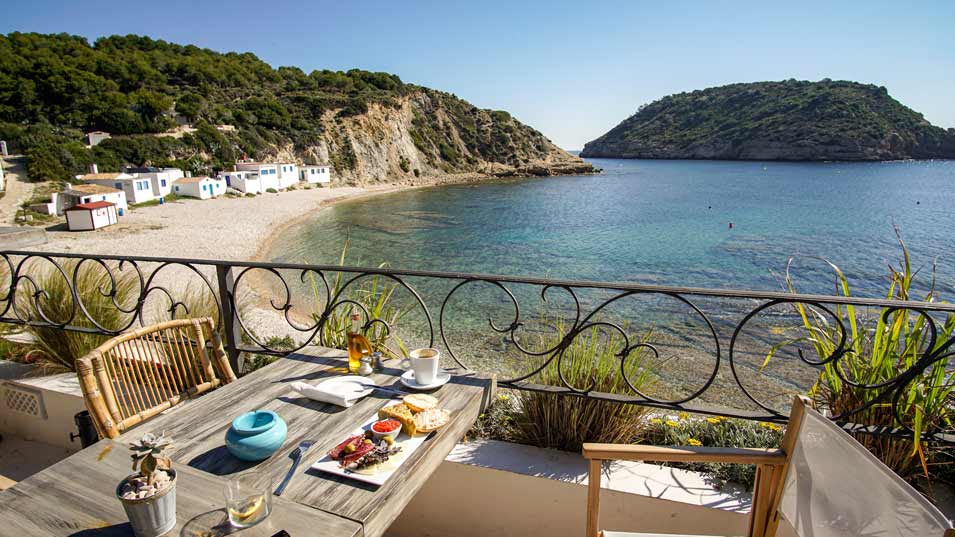 The restaurant 'Cala Clemence' has outstanding views over the bay and great food.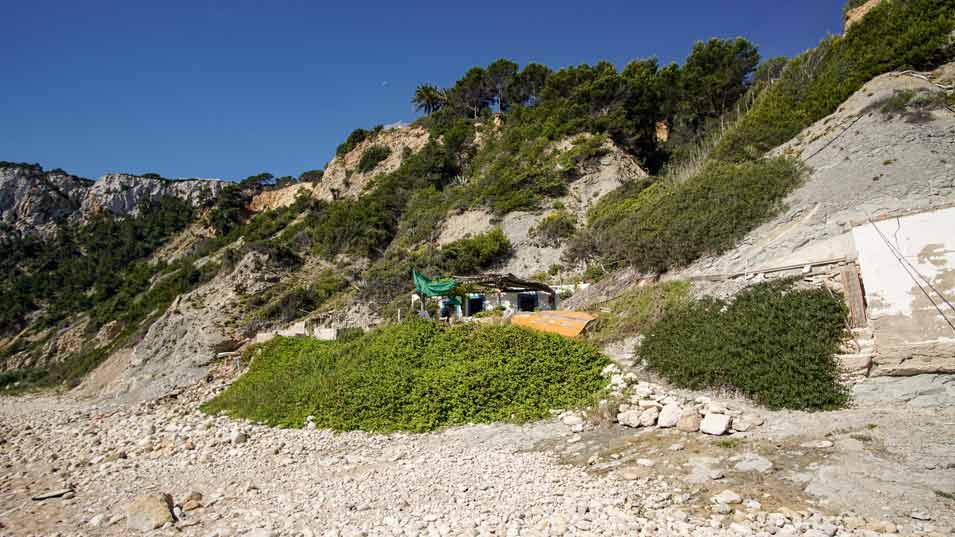 This is a rustic cove with lots of character.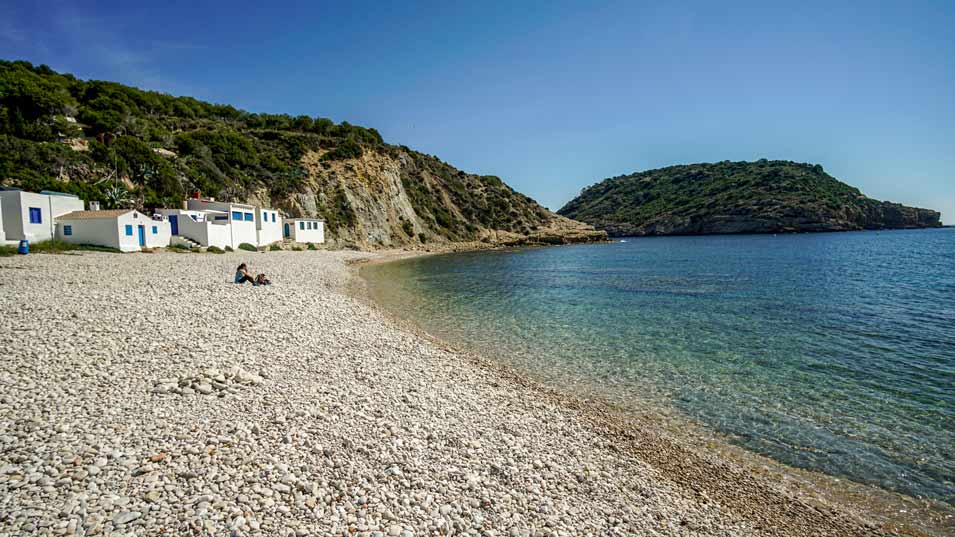 Instagrammers have recently started to come to take pics next to the fisherman's houses.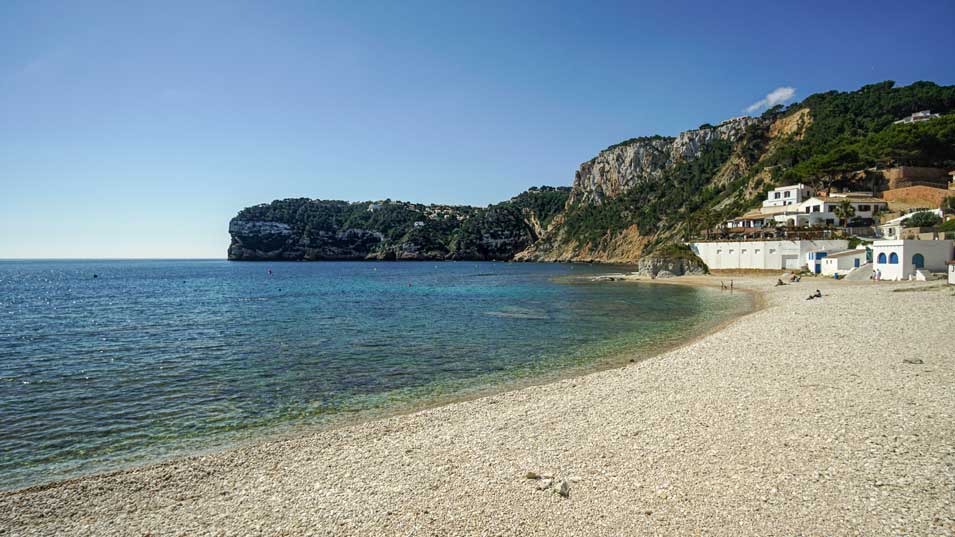 The cove has pebbles. At the back of the pic is the Cap Negre headland, which protects the cove on the right side.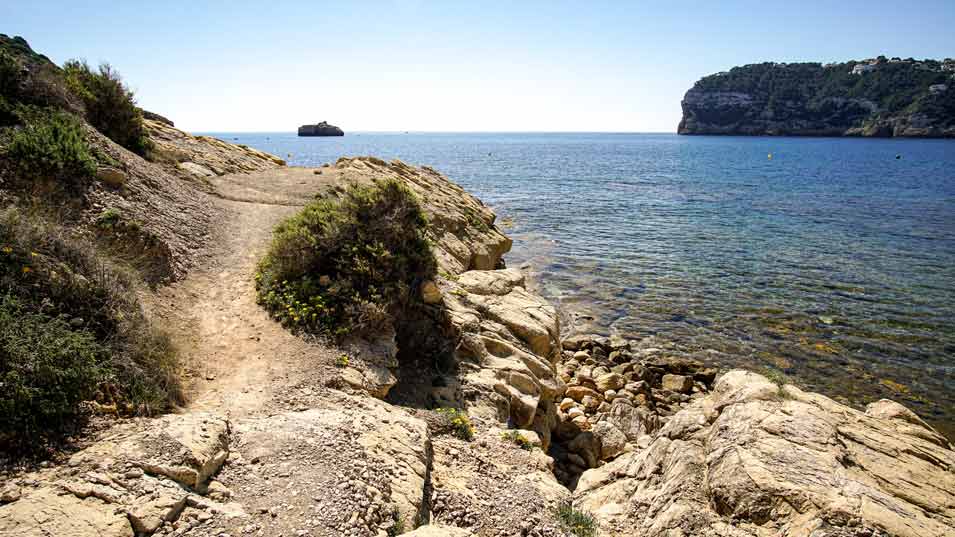 If you walk to the left side of the beach and follow this path, you will get the best views of Portitxol Island.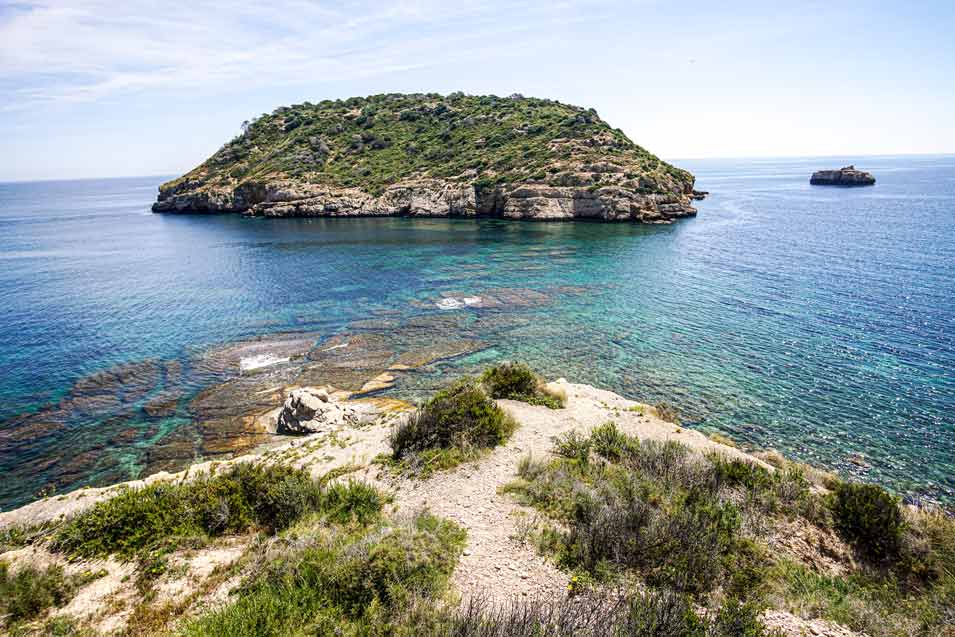 Portitxol Island is popular for scuba diving.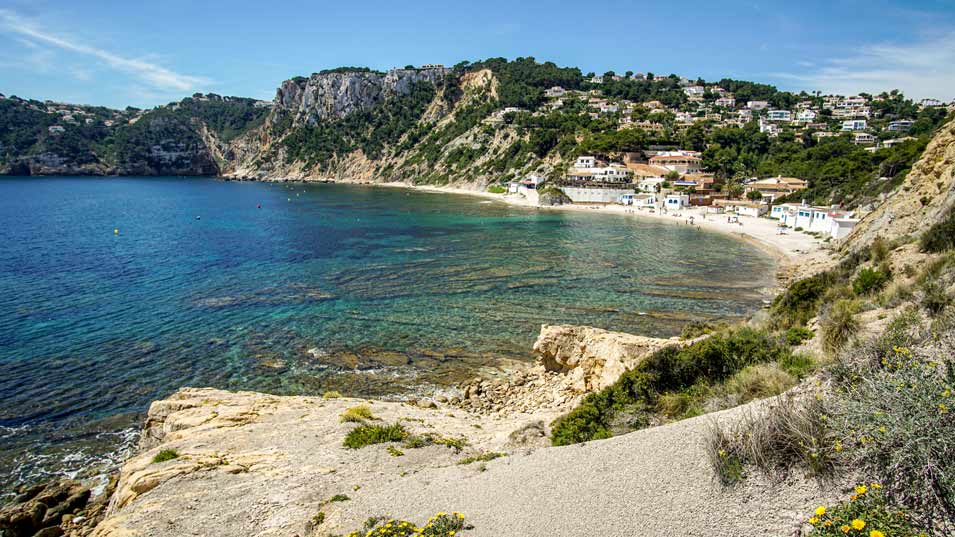 The water is crystalline and clean.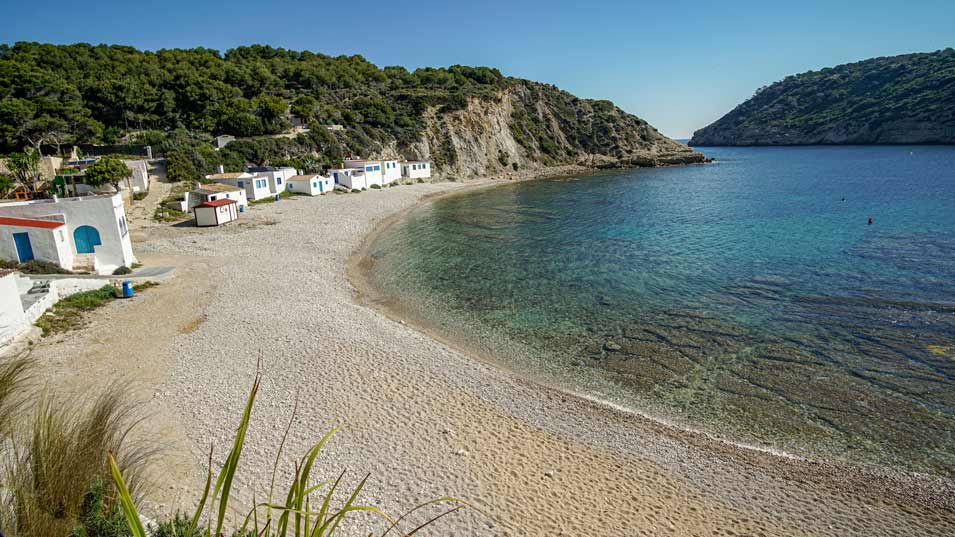 If possible, go during the week. On summer weekends, it gets very crowded.

Check out the best Swimming Holes & Places to Swim INLAND!
Algar Waterfalls
Toll Blau
Barranco de la Encantada
Salt de Jijona
Guadalest Reservoir

Check out the best Wild Swimming spots on the COAST!
Swimming Safety
Read these Tips
&
be Safe
when Wild Swimming

Check out the best places to go wild swimming, by the TYPE of swimming spot

Facebook Posts
HOW TO GET TO - Cala Portitxol
Cala Portitxol (Cala Barraca) is located between 2 headlands (Cap Prim and Cap Negre). It's accessed by driving towards Cabo la Nao. The cove is well signposted.
It can be reached by car from the Cabo de la Nao road and also on foot from the viewpoint 'Mirador de la Cruz del Portitxol'.
It's possible to arrive right to the beach by car (except in the summer months). Yet, we recommend hiking to Cala Portitxol. Follow local path SL-CV 97 (around800 meters). The short route down to Cala Barraca begins at the viewpoint (Mirador de la Creu del Portitxol) on road Cabo de la Nao. It's an easy path and is well signposted. The path passes between pine trees and terraces with Muscat grapes.
The parking is free, but there are not many places. Go early or park further away and enjoy the walk to the cove as explained above. Since the summer of 2019, Javea Town Hall installed a barrier to control access to the cove by car. During the summer, a security guard allows cars to enter if there are free parking spaces.
Moraira (15 km), Javea (7.5 km)
Walking Time to Swimming Spot
1 minute, if you park in the car park of the cove or 13 minutes if you walk down
USEFUL INFORMATION - Cala Portitxol
If possible go during the week and avoid July and August. You'll enjoy it even more. It's open 24 hours a day throughout the year.
Swimming, snorkelling, scuba diving, kayaking
Hiking
It is not advisable for wind & waves sports such as windsurfing or surfing.
Red Cross, car park, 2 restaurants, lifeguards in summer. Rental of hammocks, umbrellas and kayaks. 
No castles in the sand are possible as the cove has pebbles
It's forbidden to make fires, litter, and park in non-authorized areas.
Avoid carrying coolers (and chairs, hammocks, tables) and playing loud music.
Most sun creams contaminate the water, try to apply them well before taking a dip.
(Scientists have discovered that sunscreen releases significant amounts of titanium dioxide, which damages aquatic life).
City Hall of Xabia – 965 790 500 / info@ajxabia.com – Contact them for latest news & Covid
Things to Do – Cala Portitxol
Cala Portitxol is a perfect place to
snorkel
. It has a shallow bottom, with large rock plates divided by crevices, in the southern part of the beach. These look like reefs and underwater streets. You may see fish, urchins, octopuses, and crabs. The
Island of Portitxol
is about 300 meters from the cove. It has a great botanical and archaeological importance. You could swim to it (although it is dangerous because there are many boats or jet skis). Yet, it's best to reach it by kayak or boat. The Island of Portitxol is a popular diving spot. It has a difficult-medium route below -21 meters.
There are various hiking routes in the area.
Check out these amazing natural pools & places to swim in the province of ALICANTE.
Guadalest Reservoir is the ideal lake to take a refreshing dip in an amazing natural setting. The views from the lake to the mountains and its turquoise colour will surprise you.
Algar Waterfalls are close to Benidorm and are the most beautiful waterfalls in Alicante. You can have a picnic next to the crystalline natural pools in the river.
For swimming holes, check out Barranco de la Encantada (natural pool with waterfall) and Pou Clar (group of swimming holes).
To swim on the coast in Alicante, Cala Granadella, Cala Ambolo and Cala Moraig are all amazing. They might remind you of Ibiza! To the south of the city of Alicante is Playa del Carabassí, This beach has golden sand, big dunes and pine trees.
There are 2 restaurants: Cala Clemence and La Barraca. The view from Cala Clemence is amazing. The presentation of the food and the decoration of the place is rustic and welcoming.
The little white houses on the beach (old fisherman's houses) are privately owned. This cove does not have any nearby hotels or shops as its away from urban areas. Its surroundings have privately owned villas, some of which are rented for the summer. 
This cove has a length of 900 m. and is sheltered by the cliffs that surround it.
The depth is more than 2 meters when you get some meters into the water.
This cove is protected from large waves and currents due to its closed bay. Yet, you should always swim and dive carefully.
The cove has sun most of the day.
How clean is the swimming spot?
Very clean. Unfortunately, you might find a cigarette bud or two.
There is great (around 15 m) visibility under the water. Cala Portitxol is a popular diving spot. You will see different kinds of fish and along the rocks, there are urchins, snails, octopuses, etc.
Slightly warm during summer

Check out the best Swimming Holes & Places to Swim INLAND!
Algar Waterfalls
Toll Blau
Barranco de la Encantada
Salt de Jijona
Guadalest Reservoir

Check out the best Wild Swimming spots on the COAST!
Swimming Safety
Read these Tips
&
be Safe
when Wild Swimming

Check out the best places to go wild swimming, by the TYPE of swimming spot
Looking for something in particular?